1. How to Make Your First Million in Seven Years
What prevents people from living the life of their dreams? – Money!
Of course money is certainly not everything, but when we don't have it we focus on it way too much.
Having money means freedom and being able to live a more independent life. 'How to make Your First Million in Seven Years' is an audio course narrated personally by the author Bodo Schafer, millionaire, author and Europe's No.1 money-coach.
It will give you all the information you need in order to become financially free. You will find it so easy to listen to, understand and follow you will want to listen to Bodo's pearls of wisdom over and over again.
Bodo says that wealth is your birthright and that anyone can become wealthy. You just need to know and implement the rules.
"How To Make Your First Million in Seven Years" will give you the rules and a whole lot more. Listen, take notes and most of all take action on this audio and you will find your life will change.
Of course I'm sure you already know change is not something humans normally do that well so having Bodo as a coach in this way is a huge boost if you really want to achieve your financial goals, dreams and aspirations.
Much of the content in this audio course has direct links to the best selling book 'The Road to Financial Freedom' also by Bodo Schafer, and being able to listen to him as he delivers this information really brings to life everything you would read in his book.
Order Now – How To Make Your First Million in Seven Years
$39.95 (Digital delivery mp3 Audio)
---
2. The Road to Financial Freedom
"The Road to Financial Freedom" is a book by Bodo Schafer, millionaire, author and Europe's No.1 money-coach. This book reveals tried and proven secrets to building a fortune and delivers easy, instant effective techniques for the use of money and how to achieve "Your first Million in Seven Years"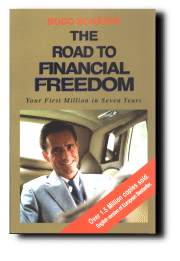 It is NOT a book about a get rich quick scheme though, it is about the fundamental aspects of yourself, your life and of course your finances. It is easy to read, easy to understand and easy to apply which is why I strongly believe that everyone should read it, whether they have just decided to make a change or whether they are already in the process and well on the way.
With over 1.5 million copies sold, "The Road to Financial Freedom" has changed many people's lives and it can change yours as well.
Bodo shows how to make your first million in seven years.
Bodo says that most people over-estimate what they can achieve in a short period of time and under-estimate what they can achieve over a longer period of time.
To become wealthy, healthy and happy is not rocket science but it will take more than a couple of days to get there. Successful people know persistence is important and small successes keep them going and lead to bigger successes.
I personally found this book was extremely practical and easy to understand. Not only that, it gives clear action steps that anyone can take. I found myself connecting with the author and many times realised that I had just read something that I knew for quite some time, but had not managed to make sense of up until that moment. Make sure you have pen and paper at your side as you read because it is not a novel about money. You will have work to do as you read your way through and skipping these steps would be very foolish indeed.
Liz Blythe from Victoria wrote to me after she purchased 'The Road to Financial Freedom' and this is what she had to say.
Dear David,The book I ordered "The Road to Financial Freedom" is fantastic!!
It is to-date the only financial book that I have read that I have been able to say that I can actually apply it to my life. Maybe because it is in real layman terms. The author is right it is simple but not easy and the saying savings can make you wealthy I can now understand whereas before I didn't really get it. I believe most people don't and never will. If you can grasp this fact at least you are on your way to making your first million even if it takes you longer than 7 years.
Elizabeth B.
The hard copy of the English edition of this book is in short supply as the book was originally written in German. Fortunately an electronic eBook version is also available.
Order Now – Hard Copy – Road To Financial Freedom
$29.95 – Free postage within Australia
(includes free eBook version as well)
Order Now – eBook – Road To Financial Freedom
$19.95 (Digital Delivery – pdf eBook)
Order Now
Road To Financial Freedom
PLUS
How To Make Your First Million In Seven Years
$49.95 (Digital delivery – pdf eBook and mp3 audio)