Your Own Personal Spending Planner
Join the growing number of people around the world who know and understand the power of having a personal Spending Plan
---
Bodo Schafer Products
How To Make Your First Million in Seven Years
"How To Make Your First Million in Seven Years" is an audio course narrated personally by Bodo Schafer; millionaire, author and Europe's No1 money-coach.
This audio course outlines how to go about creating a fortune and delivers
simple clear advice on how to go about changing who you are and what you do in order to achieve "Your first Million in Seven Years"
Order Now $39.95
The Road To Financial Freedom
"The Road to Financial Freedom" is written by Bodo Schafer; millionaire, author and Europe's No1 money-coach.
This book reveals tried and proven secrets to building a fortune and delivers easy, instant effective techniques for the use of money and how to achieve "Your first Million in Seven Years"
Hard Copy – Order Now – $29.95
eBook – Order Now $19.95
Bundle Offer – Purchase both the above digital products together and pay only $49.95! (Save $9.95)
---
DebtBuster
For people with so many debts that they feel overwhelmed, DebtBuster is the answer to creating a really simple plan to pay your debts off as efficiently and as quickly as possible.
This product was created as a result of working with many people with debt problems and coming to an understanding of exactly what is required to reduce the stress and put a plan in place that can be followed easily with confidence.
Digital Delivery – Order Now – Price: $47
Compatible with Windows on PC or Mac
---
 How To Dump Your Debt (Without living on baked beans)
In this new e-book, David gets right under the surface to expose the real reasons for debt so you can dump it and stay debt free. This is as much a workbook as it is a book to read. It is filled with exercises that you really MUST do.
It looks at 5 of David's Big-E's – Emotions, Environment, Education, Earnings and External Factors that will ultimately deliver you your financial destiny and shows you how to take control.
WARNING: THE RESULTS CAN BE LIBERATING IF YOU FOLLOW THIS GUIDE.
DO NOT PURCHASE THIS PRODUCT IF YOU ARE NOT PREPARED TO ACTUALLY IMPLEMENT WHAT IT ASKS YOU TO DO!
Understand the message, Follow the instructions, become Debt Free!
Order Now $17.00 (digital delivery)
---
Pocket Pal
Children's Pocket Money System
Give your child the opportunity to learn about earning and managing money the right way long before he or she will be exposed to all the risks that bring so many people undone.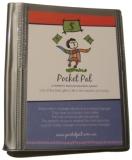 Pocket Pal is a great way to teach your kids about money.
 Order Now – $24.95 incl Postage
---
APPLE MAC:-  DebtBuster is not directly compatible with Apple Mac computers but can be used successfully on Apple Mac's in conjunction with third part software designed to allow Windows software to run on Mac computers.
---
Save
Save
Save
Save