*Have you ever wondered if all the stuff you've read about people making a bazillion bucks from property investing is true?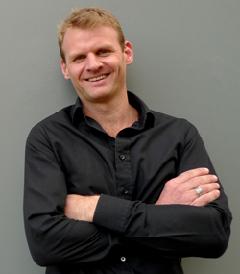 Meet my friend Matt Jones.
Matt is a quiet kind of guy who looks like your average Aussie bloke, but Matt's story is far from average.
After leaving school Matt started working in what he thought at the time was his dream job. He loved every minute doing the lighting for stage shows, bands, expo's and more. He even did the lighting for Madonna at one time!
Anyway as he got older and more experienced he found himself moving upward into management positions and the work became less exciting and more stressful. He began to realise that what was once fun was no longer fun at all!
One day he had what he calls his 'snap' moment when he realised just how many hours he was working every week just to get 4 weeks holidays each year.
He was not LIVING life on his terms and it was time to make a change!
He walked into his bosses office and resigned, announcing he was going to become a property investor!
Two weeks later he realised he MAY have been just a little foolish because no bank would lend an unemployed person money to buy property (minor error of judgement there),  so he took on a job as a postie, riding around various Brisbane suburbs delivering the mail.
He thought this would be the perfect job. He could work as a postie in the mornings and then throw himself into looking for property deals in the afternoons and evenings.
His first foray into property investing was to renovate an old Queenslander house over 9 months. He sold that for a very small profit after a lot of hard work and realised that renovating was not what he wanted to do longer term but the experience taught him a lot of worthwhile lessons. He has done more renovations since that first project, but by drawing on the lessons he learned his outcomes are a lot better now!
For his next deal Matt bought a house on a large block of land and subdivided it into two, selling off the house and the newly created block of land and making a $45k profit in 9 months.
This was much more exciting!
As a way of learning from others mistakes and successes Matt started organising regular meetings for like minded people to get together and share their ideas and information about the projects they were working on. Over just a few years this has grown into a huge group, now known as the Brisbane Property Networking Group with monthly meetings and almost 2,000 members.
Not long after his first sub-division deal Matt quit his postie job and since then he has gone on to do many more subdivision and other profitable property deals.
Matt's number one driving force is his desire to live life on his terms, to have time for family and to do the things that make life fun and enjoyable. Property investing has allowed him to do that with ease.
This year Matt and his wife and children are moving to France to live for a year.
WHY?
Because they can!
It's just something they thought would be fun so they decided to go do it!
One of Matt's traits is to document the things he does. He showed me an album he put together in his first year looking for property deals. He had pasted photo's of all the houses he looked at and below each one he had written his notes, including the numbers he had crunched and the good and bad points of each potential deal, giving each one a score as to how good a deal he thought it might be.
Matt also documented everything he did with the projects he undertook, all the do's and don'ts, the strategies and the lessons he learned along the way.
Realising he had a lot of useful information in his notes, he decided it was no use to anyone like that, so to use his words, he locked himself away in a room for two months and put all the information into a logical format that other people could use to go out and do what he had done, but without making the mistakes he had made.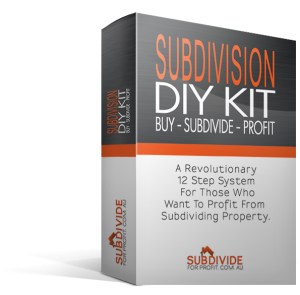 Here is a photo of the the product Matt created and I can tell you it is awesome! I could not believe the attention to detail and the trouble he had gone to to make sure it was a resource anyone could use to go out and start making money subdividing property.
And here is what is in the kit:-
First things first! Matt shows you the exact method he uses to FIND a profitable subdivision project!
This can be done as fast or as slow as you want and in fact Matt found another subdivision deal while putting this package together! He shows you how to analyse a new area and literally drill down in each suburb to find the perfect subdivision deal to get you started!
Building a competent team around you is critical
Inside the DIY Subdivision Kit is a complete list of people you will need to use and what their expertise entails. Matt also gives you names and phone numbers of some of those key people so that you can use his team if you like!
Would you like to know all the subdivision costs?
Matt has this covered as well. In fact in section 8 on pages 57 – 63 he details every possible associated cost with a simple subdivision so that you are clear about your numbers before you sign a purchase contract.
How to get a good subdivision deal under contract
It's one thing to find the right deal BUT getting it under contract with the right clauses is another. Inside the DIY Subdivision Kit, Matt gives you 6 'must have' special clauses that will ensure you get a massive head start on the project, plus save you substantial holding and GST costs
Strategies, strategies and more strategies!
The great thing about subdividing property is the many ways you can make it work to create a profit. Matt takes you through 5 of his favourite ways to ensure you maximise the profit in your deal
Matt's revolutionary 12 Step System, complete with Flow Chart
Having a flow chart is a great way to get a birds eye view of what has to happen. To go with it, The DIY Subdivision Kit steps through each phase and gives you the real nuts and bolts. That's in Section 6 on pages 35 – 47. Matt literally walks you through each step including what to do, who to speak to, how long it will take and what it will cost – Brilliant!
The pitfalls of subdivision and what to look out for!
You need a Plan B, C, D and E in this business and that's why Matt dedicates a whole chapter solely to discussing what things might trip you up and how to deal with them. Like what to do if council rejects your application or what strategies you can use if neighbours object to your development.
I thoroughly recommend this kit if you are at all interested in making money from property and you like the idea of making a profit from sub-dividing.
The principle is simple!
Locate a property that is large enough to be chopped into two properties and chop it into two. The two will almost always be worth more than the one you started out with so just locate and divide!
Councils are allowing smaller and smaller block sizes now than they did years ago so there are plenty of older homes on larger blocks that potentially can be turned into viable sub-division deals.
So the only remaining question now is "HOW MUCH does this kit cost"?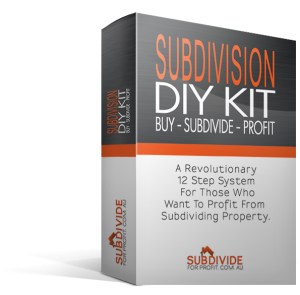 You will be amazed by this.
You have two options.
Hard Copy :- $597  Soft Copy:- $297
A price rise is occurring on Friday October the 2nd. The  prices above are current until the price rise.
Can you believe it? Matt made $45k on his first deal and here he guides you through the process of doing what he did (without the mistakes) for a mere fragment of what he made and what you could potentially make as well.
I doubt you are ever going to find such valuable education this cheap anywhere!
When managing his own property projects, Matt always likes to make sure people have all the tools they need to get the job done right, and the DIY Subdivision Kit is no exception.
Along with the 100 page workbook with all the information I mentioned above, Matt includes:
* A complete 9 page checklist to make sure you tick all your boxes when finding the right project.
* A feasibility spreadsheet accompanied with an onscreen video of him showing you how to use it
* Four 1 hour recorded conversations he's had with property gurus specifically discussing subdivisions.
* His insider PowerPoint presentation video revealing one of his subdivision projects with him narrating the entire process!
* Two killer 'Real Deal" Video Presentations from two subdivision experts showing you their latest deals.
* Plus Matt's special report revealing how you can become an area expert in just 7 days!
Now that truly is a phenomenal amount of information that will take your property investing to a whole new level!
Matt has spent many years doing multiple subdivisions and had to do them the hard way. There was nothing available that would show him the exact process so it was all done by trial and error and a lot of help from colleagues in the industry. This meant he made a lot of mistakes and left a lot of money on the table that could have been used on his future projects.
It's for this reason that he decided to put together the DIY Subdivision Kit. It's built from his own experiences over many years of blood, sweat and tears and I know he's proud to say that the DIY Subdivision Kit will transform the way you make money in property.
I certainly recommend Matt's kit as a great resource if you are interested in learning to profit from real estate and intend putting that learning into practice.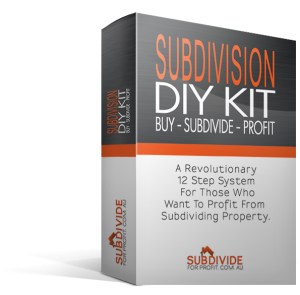 A price rise is occurring on Friday October the 2nd. The  prices beloware current until the price rise.
Hard Copy :- $597  Soft Copy:- $297
Find out more and Order NOW