Financial Freedom is something we all strive for yet way too many people never actually achieve that goal.
We all try to do the best we can with our money but rarely do we get to the point where we feel we are on track to achieve financial freedom.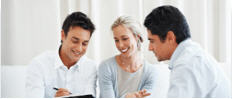 Spending Planners provide education, tools, practical training and personal assistance to help stack the odds seriously in your favour so you can achieve Financial Freedom much sooner and live with little or no money stress while having the fullest possible lifestyle that you will love and others will envy.
Spending Planners do not give investment advice. They help you to take control of your day to day financial journey so you will be in a position where you are ready to see a financial planner much sooner than you otherwise might have.
If you think about your formal education, while it may have been strong in English, Maths and Science you would be aware it was lacking in many really critical areas. We all juggle Time, Relationships and Money every day, yet so little was taught at school to prepare us for these daily challenges.
Spending Planners have been trained to help you overcome the problems people experience because of a lack of financial education. This coaching service grew out of the experience gained by David Wright, founder of Simply Budgets, over 20 years of helping real people solve real 'day to day' money challenges. Because of this you will find it delivers extremely practical assistance that will make a huge positive impact on your finances.
With the aid of ground breaking computer software technology, your Spending Planner will assist you in developing your own personal plan as he or she takes you step by step through the process. With their professional guidance you will be able to supercharge your journey towards financial freedom and give you the opportunity to break free of the financial stress cycle that has so many people trapped.
Trained and accredited Simply Budgets Spending Planners are passionate about helping people who are not happy with their current financial journey.

Click HERE to find one near you now
From your very first appointment you will understand where you have been going wrong in the past and how simple it can be to put things right. You will never regret making the appointment and your family will thank you for years to come.
Save
Save
Save
Save